Editor's Note: This is another installment of our intermittent collaboration with Cleveland Frowns, published by Peter Pattakos. This piece was originally published March 3, 2014.
By Peter Pattakos
Since the news broke in early January that Chief Wahoo would be demoted from its position as the Cleveland Indians' "primary logo" in Major League Baseball's branding style-book, a couple of pro-Wahoo Facebook groups have picked up steam, with the "Keep Chief Wahoo" and "Protect Chief Wahoo" pages having added a combined 3,200+ members mostly over the last two months.
And in related news, everybody please welcome the Plain Dealer to 1964, as the newspaper finally decided to proclaim last week that Wahoo "represents a racially insensitive stereotype of Native Americans." In expressing its opinion that it's time for the Indians organization to "make a clean break" with the logo, the PD's editorial board explained that "[f]or many, getting rid of Wahoo means giving into excessive political correctness," and that was "why this editorial board has hesitated in the past to take a position."
So as much as you might not have been wondering very much about what's at the bottom of a person's decision to prioritize his attachment to a baseball team's logo over the right of a race of people to not have a dehumanizing caricature of itself made into a baseball team's logo, it's worth noting that Cleveland's only daily newspaper was worried enough about offending this crowd. And, more to the point, Cleveland's Major League Baseball team still is.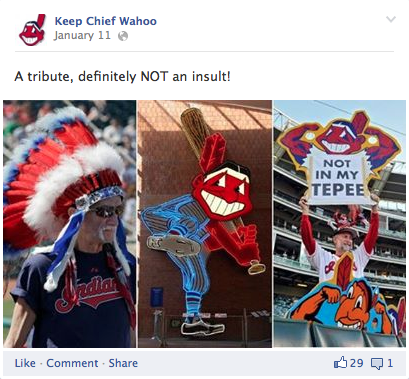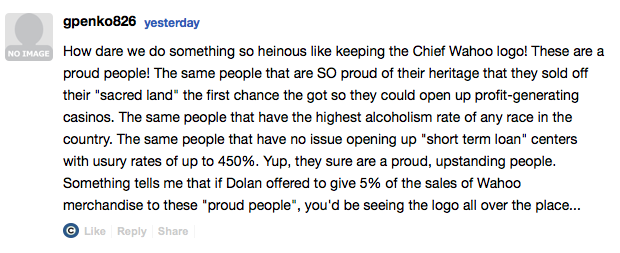 Of course, there's no telling what kind of damage might have been done had the PD risked offending the sensibilities of these people by having spoken out against Wahoo twenty, ten, five, four, or even three, two or one years ago. Thankfully for the "Keep Wahoo" crowd, the newspaper still thinks that the "Indians" name is okay, and there are still some local media members standing bravely in favor of the white man's divine right to make baseball logos out of caricatures of genocide victims, including Greg Brinda of ESPN Cleveland 850 WKNR, Glenn Moore of Cleveland.com/Northeast Ohio Media Group, Mark Schwab of CBS 19 Action News and 92.3 WFAN, as well as Mike "Chico" Bormann, J.G. Spooner, and of course, Kiley and Booms, also of 92.3 WFAN.
Two months ago the Indians announced that there would be no change at all to the organization's "approach" to the logo, which appeared on its uniforms in 161 of 162 games last season. It's been forty-nine years and counting since a Cleveland team has won a damn thing.
Peter Pattakos is a Cleveland attorney and publisher of the website clevelandfrowns.com.